| | | |
| --- | --- | --- |
| |   | Need Help installing Bookshelf? |
4.5 Release Notes
What's New?
Continue Reading: Bookshelf 4.5 makes it easier to continue reading from the last book read.
Improved book cards: See at a glance detailed book information.
Improved library navigation: My Books Carousel, improved collections, and improved search make finding the right title faster and easier.
Improved library and content search and filtering: Bookshelf 4.5 simplifies Bookshelf's filtering and search tools.
Updated onboarding cards: Learn all about Bookshelf 4.5 features with new onboarding cards. 
Continue Reading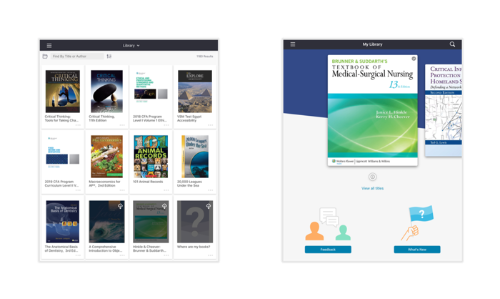 For ease of use, we have the most recent title now more prominently displayed. Previously, this would have been the first book in your bookshelf, but it wasn't explicitly called out. We added this feature to help our users easily jump back into their reading without any distractions. We provide more information below on the info and search icons next to the book.
Improved Book Cards
We have been adding more and more information to the book card over the years, and as a result, we ran out of space on the card.
Now, we have a new book hover that allows you to find out more information about your title quickly. 
Tap the "i" icon to find out book details including ISBN, citation information, and badges for notes, highlights, and flashcards.
My Books Carousel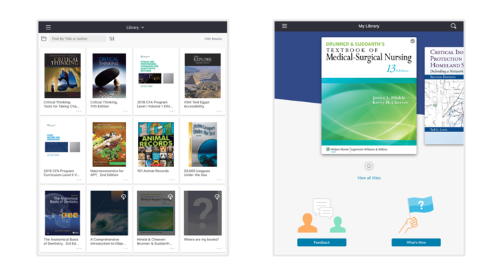 Placing all books into a carousel helps declutter the library allowing for the most recent books to be prominently featured while putting those older unused titles easily out of sight, but always available.
To see some of your older titles, swipe to scroll through your top 5 books.  To view, all of your books, tap View All Titles. Can't find it? Bookshelf's search will help you locate titles quickly and easily. 
Simplified Library and Content Search

Previously, searching had to be done in two different places depending on if you wanted to search for a book or a term within a book's content.  We condensed them for ease of use.
We moved library search to the search icon and combined it with content search. To complete a content search, tap 'Search downloaded content.'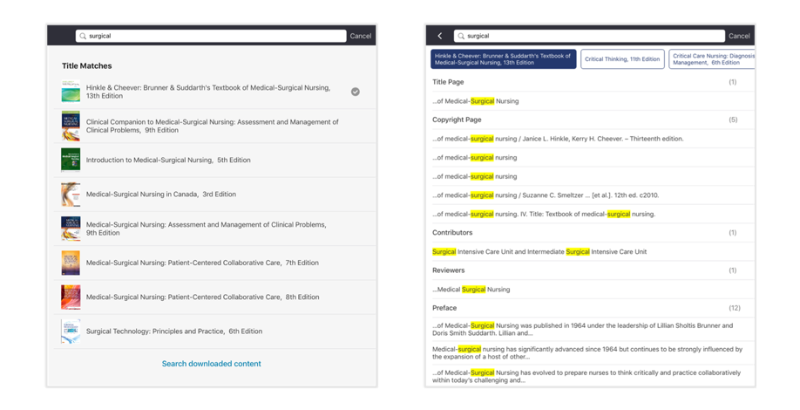 Drill into your content results by the book or use the swimlane at the top of the panel to browse results by title. From the panel, the functionality has not changed. You can click on the corresponding sentence and navigate to that location in the book.
Filter settings and Collections

For those with a lot of books in their account, having to use two different menus to filter items properly was a challenge.  We updated and moved these features into your My Books screen.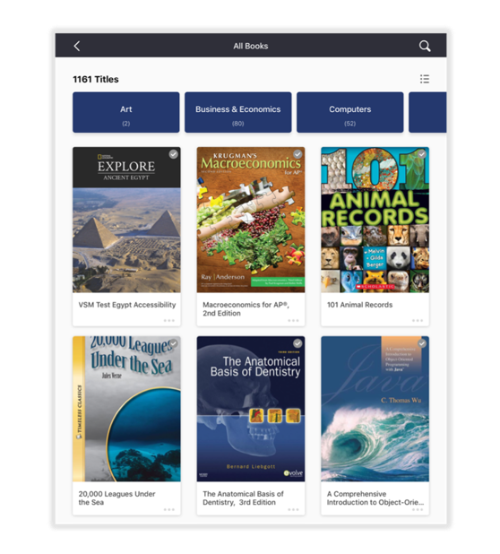 On the All Books screen, you can scroll through all of your books in a simplified grid view in a grid view. Should you prefer to view your books in a list view, you can also do that on this panel. Collections are now prominently featured in a swimlane across the top. 
New Onboarding Cards
Click the 'What's New' on the My Library screen to view helpful tips and tricks.