How To Access your VitalSource eTextbook purchased at your college's online bookstore
Depending on your course, you may be able to buy digital materials at your college's online bookstore. To find a VitalSource eTextbook or courseware in the bookstore, locate VitalSource Digital Edition for your course title. Buy online and receive access to your course right in your inbox.
Keep your activation email. The email has your activation link needed to access your Digital Access Content.
Where will I find my VitalSource Activation Link?
Shortly after your purchase from your college's online bookstore, you will receive an email from do.not.reply@vitalsource.com with the subject, Activate your digital content access. Click the link in the email access your eTextbook.
To activate your content:
Locate the vitalsource.com URL in your activation email
Visit https://api.vitalsource.com/... to obtain your code.
Log In or create a new VitalSource account. Do not click the No thanks, I'll skip this step button
Once logged in, your book will appear in your library.
Important: Your activation link is valid for a single-use and will expire in six months from the date of issue. If your link expires, you can request a new on by visiting https://bookshelf-activate.vitalsource.com/#/user/activation. Enter in the email address you used to place your order initially. If you request multiple links, the system will deactivate all but the newest link.
If you are having trouble with your activation link, please contact VitalSource Support and have your activation link accessible.
How do I access my VitalSource Content?
1. Click the link in your activation email to begin the activation process. Enter your email address to sign into Bookshelf or create a new account.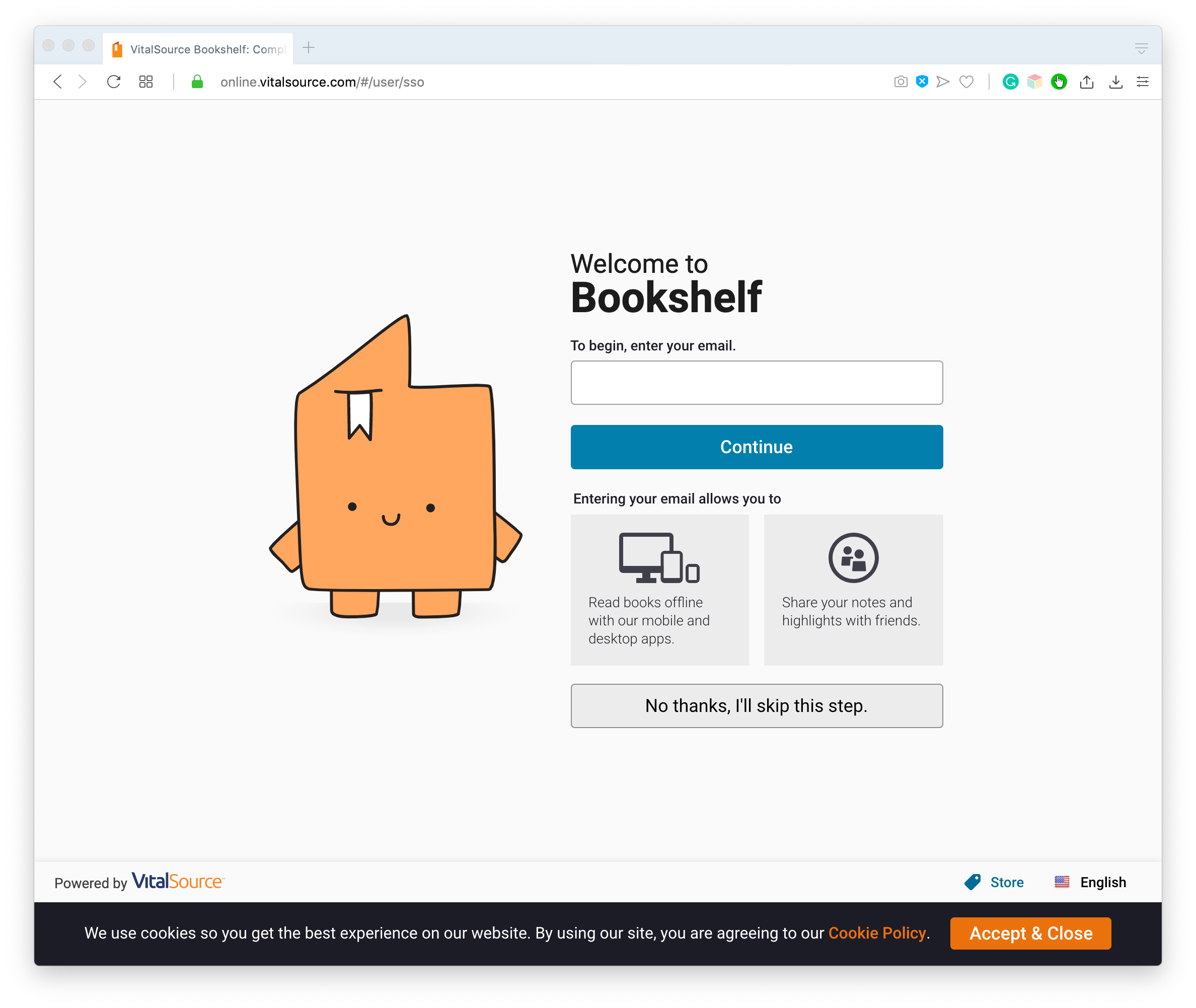 Do not click the No Thanks, I'll skip this step button at the bottom. If you do not remember your password, Reset your password.
2. After a quick refresh, your eTextbook will be in your library.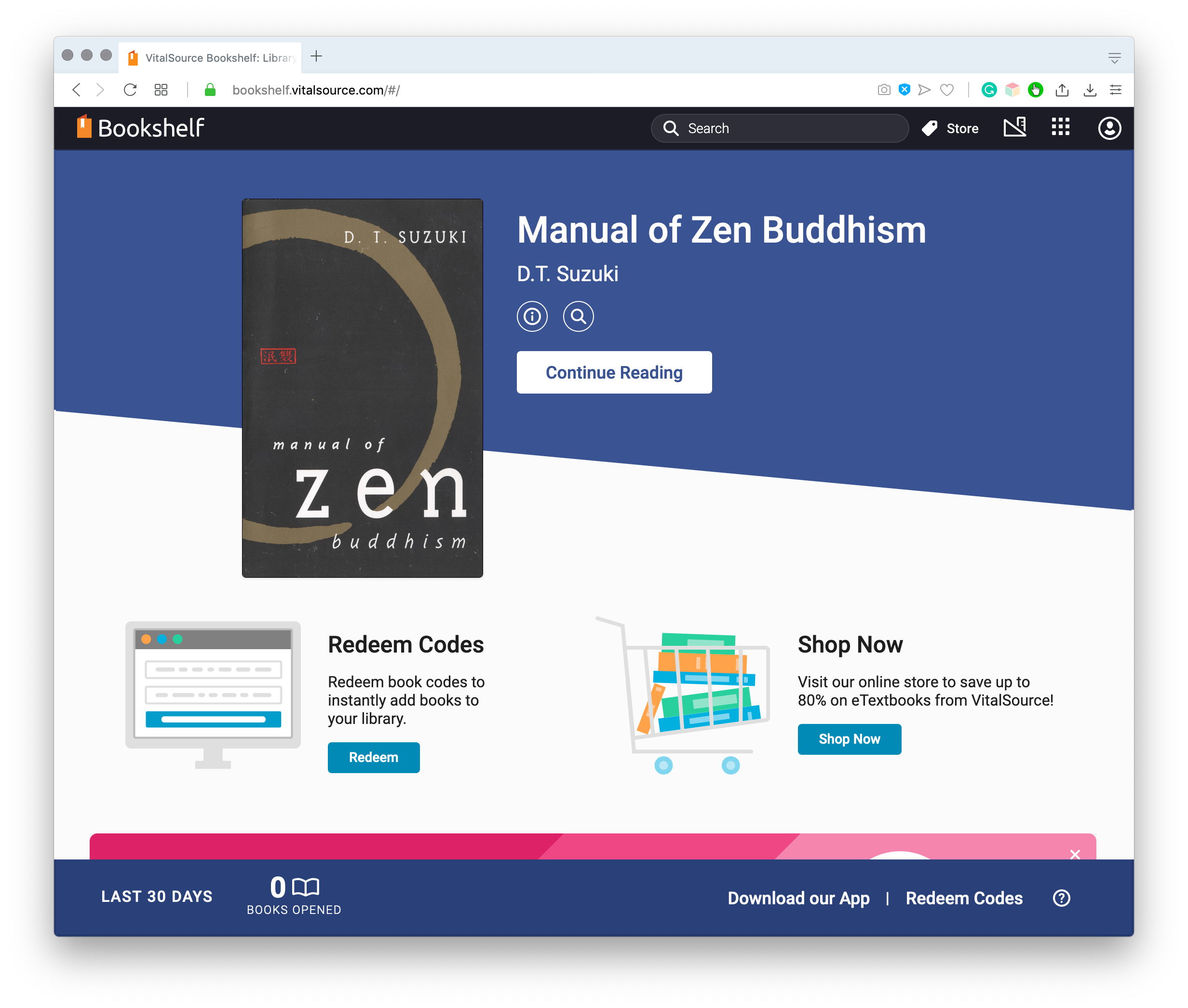 Click on your Book's cover to open it and begin reading.
How do I redeem my Publisher Access Code?
1. Click the Reveal Access Code button next to the title. Then click the Continue button in the lower-right of the slide-out, and then click the Reveal Access Code button.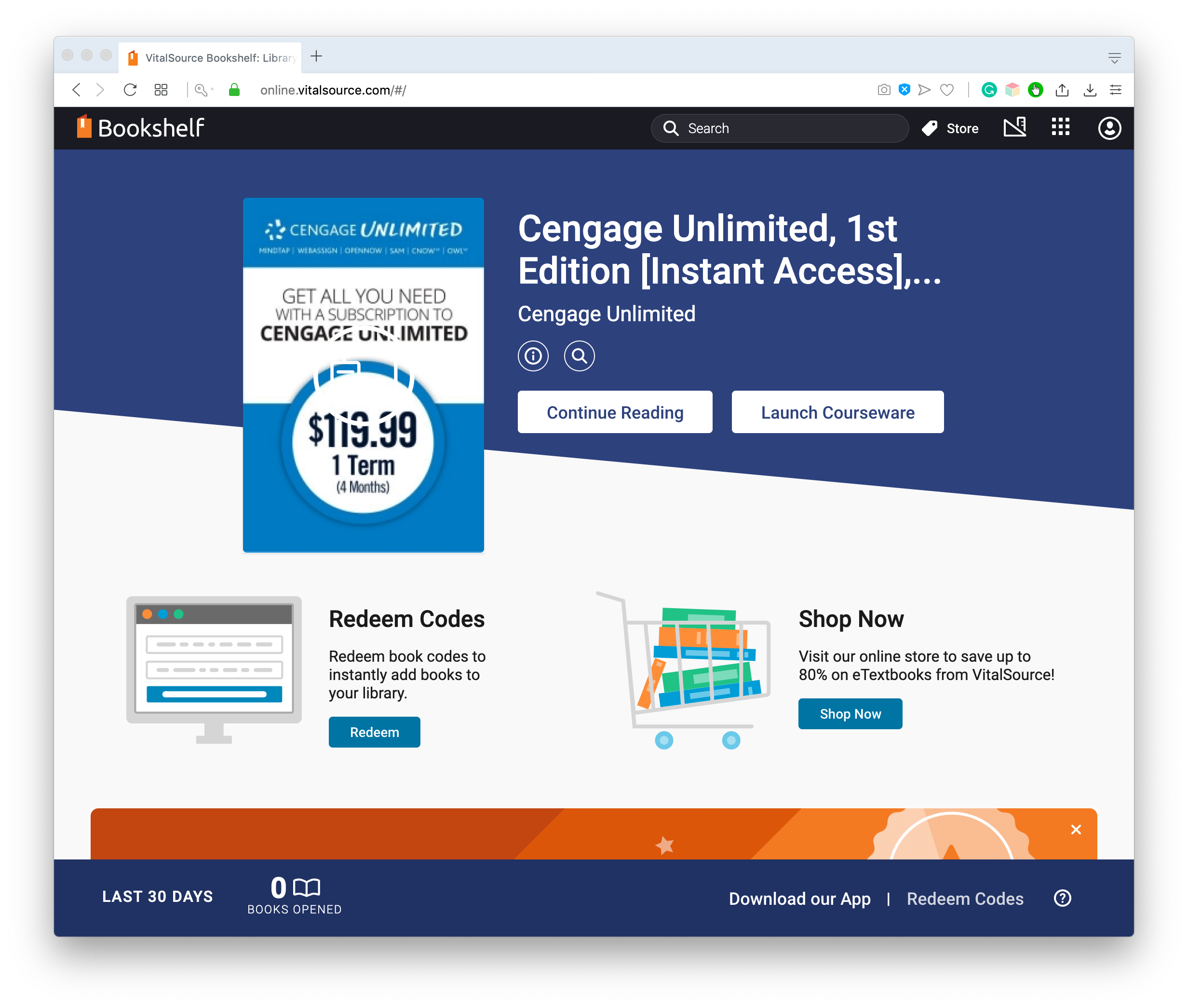 If you do not see a Reveal Access Code button next to your courseware packet. Open the digital Access Code Card and click on the notification pop-up that says, "This item contains an access code. Click here to reveal."

2. Copy the Courseware Access Code. Please read and follow the instructions included with your access code. Publishers may have different instructions for their product. Keep in mind; you can only redeem the Publisher Access Code at the publisher's website.
If you have problems redeeming your Publisher Access Code, please contact the publisher:
VitalSource only provides access to the Publisher Access Code. We can't troubleshoot access to the publisher's platform.
If you run into issues or have any questions about the process, contact VitalSource Support, and we will be happy to help!
Was this article helpful?