Frequently Asked Questions (FAQ)
How do I redeem my Publisher Access Code?
About Resources
A resource is an additional resource that accompanies an eTextbook, such as Ancillaries and Access Codes; these resources are created and maintained by the publisher.
If you purchase a book with an accompanying Resource, follow the steps outlined below to access the Resource.

If you are attending an institution that provides your eTextbooks, please contact your institution's support to find out if a Resource is available for your book.

If your book does not include a Resource, please communicate with the publisher for more information on purchasing a Resource.
Note: Not all eTextbooks have accompanying Resources.
How do I redeem my Publisher Access Code?
Each Publisher has its unique way of displaying the publisher access code - below are several of the most popular methods:
When you purchase/obtain a material with a Publisher Access code, you may see a Launch Courseware button or Reveal Access Code button next to the Continue Reading option.
If you do not see either option you can click on the small "i" in the circle next to your book cover
A box on the right side will appear.
If the Product contains Courseware or a Resource that will show here.
Select the Courseware/Resource tab.
Read the directions in each following pop-up window carefully.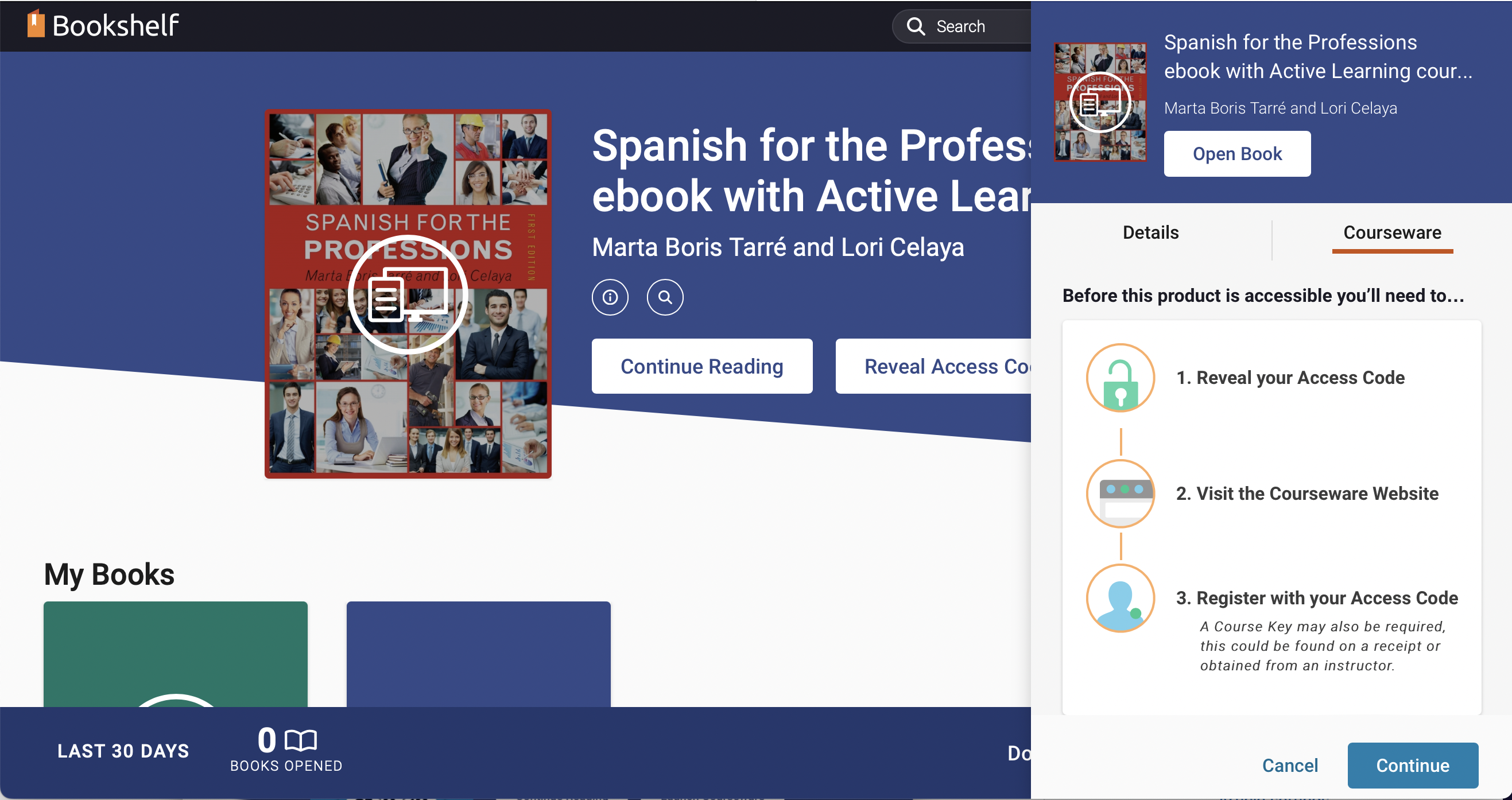 Suppose you do not see an Access Code button next to your courseware packet:
Instead, you may need to Open (Continue Reading) digital material.
Select the Open/Continue Reading
A notification pop-up should then appear that says, "This item contains an access code. Click here to reveal."
Select "here" to reveal.
Read the directions in each following pop-up window carefully.
Note: Publishers may have different instructions for their products. You can only redeem the Publisher Access Code at the Publisher's website.

You can also access your Publisher Access Code from your VitalSource Account Center
Select the circle icon with the outline of the head and shoulders.
Then select the "User Info" option.
Additional Publisher Access Articles:
If you have problems redeeming your Publisher Access Code, please contact the publisher:
VitalSource only provides access to the Publisher Access Code. We can't troubleshoot access to the publisher's platform.
If you run into issues or have any questions about the process, contact VitalSource Support, and we will be happy to help!