403 Error You do not have distribution permission for this product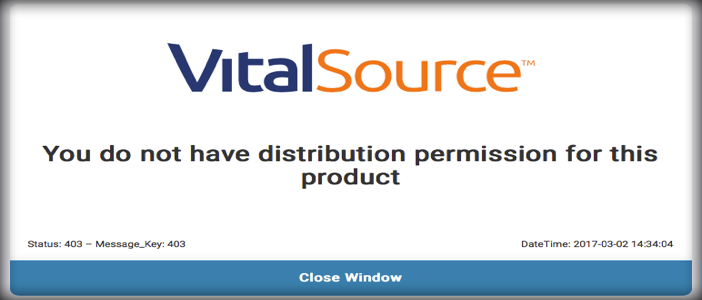 Error Code Cause
This error occurs when a user clicks a link inside an LMS to open a book, but the institution does not have rights to the book, or the book is no longer in distribution by the publisher. 


Solution
Student / Faculty
Please reach out to your instructor and inform them of the error so they may reach out to the team that configured the link inside your institution's LMS. 
Use the link in the For More Help section below to submit a support request to VitalSource for assistance.  Would you please provide your School Name, LMS, Course, Section, Name of the Book you attempted to access, and a screenshot of the error?   

LMS Administrator
Ensure the correct VBID in the LMS/VLE link.
If you received notice of the error, test the link to see if the publisher enabled rights to the title.

Publisher Representative
Ensure the institution has access to this VBID. The VBID will need distributing to the company in Manage.
Check the timing of when distribution rights were given, and compare it to the date/time stamp when the generated error message. The error may be due to a timing issue of the granting of distribution rights vs. when the student clicked the link.
If the error persists, remove the distribution rights to the content and add the rights back.
For more help
To report this issue to VitalSource, please do the following:
Submit a request using the VitalSource Error Support Form.
In the error code drop down, enter the title of this Article.
Fill out all of the fields and include a copy of the error message you received. Please provide a screenshot of the error, the time stamp on the error code will help us troubleshoot the issue.
VitalSource Support will follow up with you after we resolve the issue or additional steps to troubleshoot.
Please note that reaching out to VitalSource Support outside of the webform may cause delays in resolving the error code.